Today I m going to share my experience of Udaipur trip and I will tell you about beautiful city. Udaipur is the "white city" of India and also called city of lakes. It's a small city built around four lakes, with Lake Pichola being the most popular, and has many Ghats around. A city with totally different vibes and you will surely love that vibe. Udaipur had reserved a sweet spot in my heart, and I Will visit there again.
PLACES TO VISIT IN UDAIPUR
Main attraction of the city- don't forget to visit this places #mustvisit
City Palace Udaipur
The city palace is the #1 attraction in Udaipur and it does NOT disappoint. It is a perfect example of Marwar architecture with some beautifully designed balconies, windows, colorful tint glasses, marble and mirror work and the grand rooms! The palace also has a museum and a crystal Gallery which will take you through the life of Maharajas in Udaipur
This is also my favourite building because every inch of it is incredible. If you love photography then you should take out your time.
City Palace Udaipur timing and entry fees –
Timings -9.00am to 5.30pm
Palace complex-RS100
Crystal gallery-RS550
Museum -RS250
Lake Pichola
Lake Pichola is one of the most famous tourist attractions in Udaipur. Flanked by islands, palaces, temples, mansions, ghats and restaurants, Lake Pichola offers something for everyone. The enchanting views of sunrise and sunset from the lake is something that should not be missed by anyone visiting the lake.
Lake Pichola is a Udaipur experience you should not miss! The ride will take you through world famous Lake Palaces, Jagat Niwas Palace, Gangaur Ghat and Ambrai Ghat. The boat ride experience during sunset is so soothing and mesmerising.
CHARGES – MORNING TO AFTERNOON RIDE – RS 100
SUNSET RIDE – RS700
Ambrai Ghat: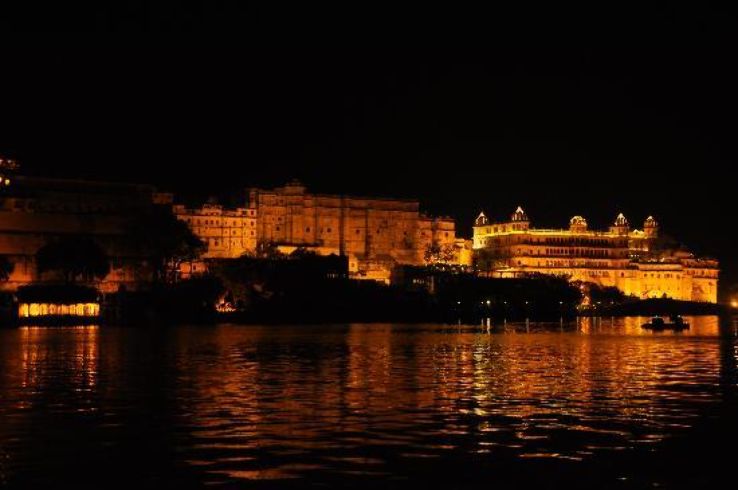 Ambrai Ghat in Udaipur is one of my favourite places to spend a peaceful evening. You will find many travelers just sitting beside the lake and admiring the lake changing its colours as the sun goes down. From the Ambrai Ghat, you can also see the enchanting City Palace shimmering in the moonlight.
Gangaur Ghat:-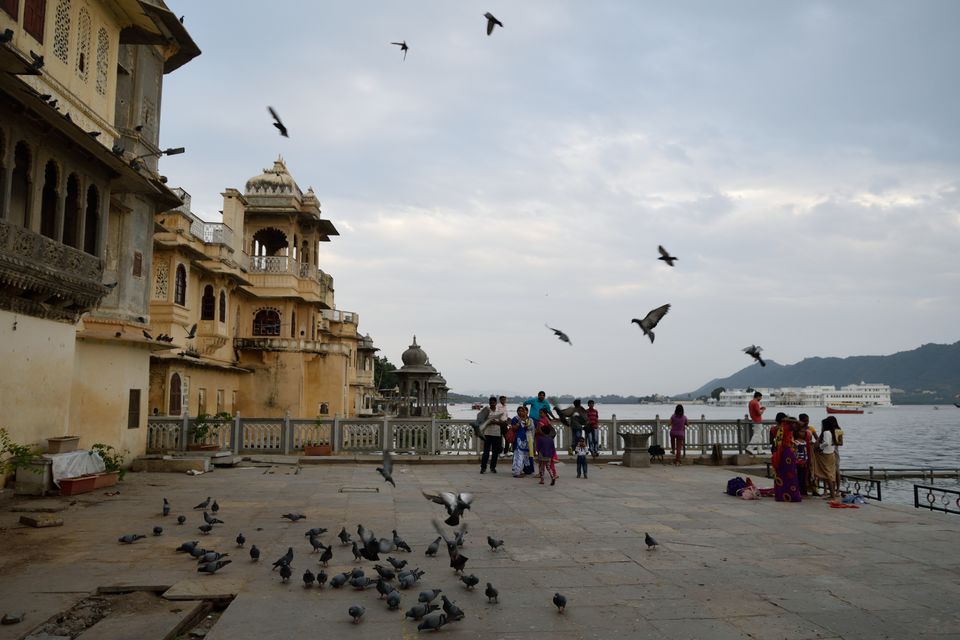 if you want to feel the true vibes of Udaipur then early morning walks are the best.you will find people doings many things like going to temple for prayers , empty roads At early morning, you will see hundreds of pigeons being fed by locals at Gangaur Ghat. Sit beside the lake and soaking in all the morning energy. I personally enjoy these moments of solitude and silence.
Bagore ki Haveli:-
This Haveli was built by Amarchand Badwa, one of the Prime Ministers of Mewar dynasty and has its own charm. It will take you back to the old era.. It has an amazing collection of puppets too! Also, for Rajasthani folk dance show, head to Bagore ki Haveli a little before 7 PM in the evening.
Timings- 10am to 5.30pm
THE LAKE PALACE
The Lake Palace is the Taj Hotel and you cannot actually go onto it but can go around it. This place is open for only The team of the Hotel & the Guests those have booked this hotel.
Monsson palace
The Monsoon Palace, also known as the Sajjan Garh Palace, is a hilltop palatial residence in the city of Udaipur
This palace is a little outside of town and I'd say if you have a third day here with not a lot to do then go for a visit, but it's not the BEST place compared to the City Palace. It does have good views of all the lakes below.
Timings- 9am to 6 pm
Temples
Jagdish Temple is a large Hindu temple in the middle of Udaipur in Rajasthan and it is the most popular temple which is right in the center of town near the markets and City Palace. You couldn't miss it.
I really hope this information on traveling Udaipur will help you know which places to visit in Udaipur are really worth it and which to skip – as well as let you in on the best hotel in town and yummy food!
Things to do in Udaipur as a Tourist
If you are staying for long and want to spend some good time and go spiritual you can do the following things in udaipur
Art class
Yoga & Meditation class
Visiting Animal Aid Unlimited
Trekking
Ayurvedic Massage
Boat tour
Sunset traditional dancing at Bagore Ki Haveli
Cooking classes (not mentioned in that post but there are signs everywhere)
How much budget is required for travelling to Udaipur
Hostels charge around INR 500 to INR 700 for a night in Udaipur. One meal in budget hotels/ restaurants will cost minimum around INR 200. So if you stay in budget hotels/ hostels and eat local, a 3 nights' trip to Udaipur may cost INR 4,000 to INR 5,000.
Places to Stay in Udaipur
If you can afford, Udaipur has the world's best hotels which are today's ROYAL PALACES like Taj Lake Palace, The Oberoi Udaivilas! The per night cost may go up to INR 50,000 – INR 60,000.
Budget hotels– Moti Mahal Hotel – This hotel is located in main area and they have good services and stuff. there is not a view from this hotel but other than view it has everything i.e nearby eating shops , drinking shops , park and specially every main centre to visit in nearby from this hotel.
Hostels – If you are a solo traveller or tight on budget, Udaipur has many hostels – Gypsy Child Lake, Bunkyard, Zostel are a few good reviewed hostels. The per night cost will be around INR 600-700. Find all hostels here – www.hostelworld.com/
Restaurants in Udaipur
I was here just three days, so I couldn't try all the best restaurants around but I did try to focus on the places that were ranked really well and sort through which were worth going to. I had pretty good luck with tasty food in Udaipur. In general, the Western food is not good here so stick to Indian food while traveling Udaipur. There are so many delicious restaurants here!
Natural View Restaurant – Only ranked 50th in the city, it was so so good with the best view in Lal Ghat. Again, chicken tikka kebab was awesome(my friend told me haha) I m vegan.
Rainbow Restaurant – a multi-cuisine place that was quite tasty!
Grasswood Cafe – a healthy cafe with vegan options for Western food like cheese toasties, good real coffee, WiFi, and lots of travelers hanging out in the A/C.
Café Satori– A Perfect place with cool environment , crowd and fast food.
Ambrai – I went here years ago and didn't get a chance to go back but had to mention it because I still remember this tasty meal with the perfect view!
Shopping in Udaipur
The shopping streets are also one of the important places to visit in Udaipur! Well, who does not love colourful Rajasthani dresses and dupattas? Guys, you should check out the kurtas and Mojari(traditional Rajasthani footwear for men). Hathipole, Bada Bazaar, Ashwini Market are some of the famous markets in Udaipur.
Getting to Udaipur and Getting Around in Udaipur
Train/Bus to Udaipur:
Bus & Train – Udaipur is well connected with Delhi and all the cities in Rajasthan by buses/ train. You can either take any Rajasthan state government bus or train . Both the options are quite comfortable and will involve a few hours journey. In case you want to travel via train, book your ticket well in advance or else, it will be difficult to get a confirmed seat (Hard reality considering huge Indian population!). There are many state government and private buses, so getting a bus ticket will not be challenging.
Flights within Rajasthan are expensive and the major cities are all about 5 hours from each other so it's best to travel via taxi or public transportation rather than fly once you are within Rajasthan.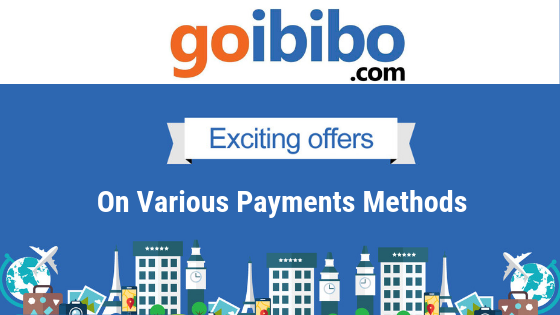 What is the best time to visit Udaipur?
The best time to visit Udaipur is the winter season. The temperature remains comfortable and is apt for visiting the monuments and other places of interest in Udaipur. The best months to visit are September, October, November, December, February and March
That's all for Udaipur, guys!
I hope this blog was helpful!
Enjoy your stay at the romantic city of India and don't forget to share your Udaipur stories with me!! I will be waiting to hear them!
If you have any queries, put them in comments. Will get back to you soon.
---