Bluehost Review 2023 – Why It Is Best ?
14 min read
Bluehost is a web hosting company founded by Matt Heaton and Danny Ashworth in Provo, Utah. They have a staff of 750 people working around the clock. Being a recommended web host by WordPress.org, they feature 1-Click installations in all their plans.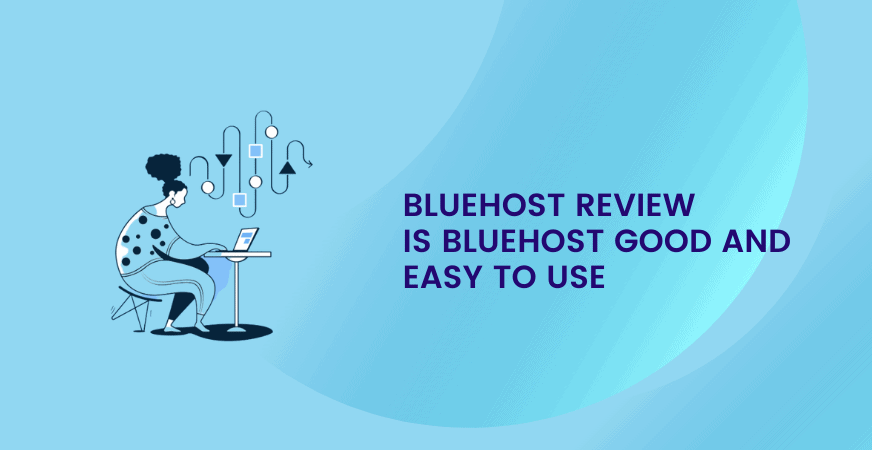 Plus:
Choice Plus Plan — $5.45/mo* for 12 months
Wesbite Builder Basic Plan — $2.95/mo* for 12 months
Wesbite Builder Pro Plan — $13.95/mo* for 12 months
E-Commerce Starter Package — 40% off 12/mo term
Free WordPress Site Migration**
General Info & Hosting Overview
Bluehost review 2021
SPEED:
581 ms
UPTIME:
99.98%
SUPPORT:
24/7 Live Chat, Phone, Email, Knowledge Base
APPS:
WordPress, Joomla, Drupal, phpBB, and More Than 75+ Open Source Projects
FEATURES:
Unmetered bandwidth, Unlimited Websites and Storage*, Free Domain 1st Year, Free SSL Certificate, Spam Experts*, Domain Privacy*, 30-Day Money-Back Guarantee
*Not included in the cheapest plan
HOSTING PLANS:
Shared, WordPress, VPS, Reseller, and Dedicated Servers
SITE TRANSFER:
Single WordPress Site for Free
PRICING:
Starting at $2.95/month (renews at $7.99/mo)
Bluehost Review from Our Experts
Bluehost is one of the biggest web hosting companies in the world and an official WordPress recommended hosting provider. Bluehost offers a wide variety of hosting plans for beginners to larger businesses with a 24/7 customer support. See the complete Bluehost review by our experts to find out if Bluehost is the right choice for you.
In this complete Bluehost review, we will put their promises to test. These are the areas we will look into:
Performance: How fast will your website load with Bluehost? We will test their speed and server response time to assess that.
Reliability: Will your website be available 24/7/365 without any downtime?
Customer Support: Can you count on their technical support as a customer?
Features: Do they offer all the features you will need to build your website?
Pricing: Do they have the best pricing in the industry? Are there any Bluehost deals that can save you money?
Types of Hosting and Features
Bluehost offers six different types of hosting: Shared, Shared WordPress, WooCommerce, VPS, Managed WordPress, and Dedicated.
Shared: the cheapest and easiest general service
Shared WordPress: the cheapest and easiest way to host a WordPress site
WooCommerce: the best way to host an online store with WordPress
VPS: Not as expensive as dedicated hosting, and still good for business sites that need to go beyond the basics
Managed WordPress: even more features for your hosted WordPress site
Dedicated: the most expensive, but also the most powerful hosting service
WordPress and Bluehost
WordPress recommends Bluehost as its number one web hosting provider – and that's no small feat, coming from a company that's dealt with innumerable web hosts in its time. If you're already set on having a WordPress site, then Bluehost is the best web host to go with. And if you're already set on Bluehost, then you should definitely consider setting up your site with WordPress.org – you can install it through your Bluehost dashboard with just one click.
Other Bluehost Features
Seamless WordPress integration is Bluehost's most impressive feature, but definitely not its only feature. We've compiled the rest of Bluehost's best offerings below:
| | |
| --- | --- |
| Domain registration | Bluehost offers a free domain to certain users when they sign up for a one-year plan. However, that perk does not include the domain registration fee (between $10 to $15), which you'll still have to pay for. |
| Website builder | There's a drag-and-drop site builder for those who have an idea of what they want to create, but don't have sharp enough HTML and CSS skills. |
| Data transfer | Bluehost offers unlimited data transfer on many of its plans. However, Bluehost also provides CPU Protection – more on this below. |
| cPanel | Bluehost uses the "cPanel" Control Panel, which is a popular site management system. The company also offers free backups so you don't lose any key site files. |
| Storage | Depending on the plan you use, Bluehost offers anything from 50GB up to unlimited storage space for your site files. If all you plan to do is run a WordPress blog with words and images, then the 50GB plan will be fine, as it will take a while to use up that much storage. |
One common web hosting feature that Bluehost lacks is free migration. If you're looking to migrate an existing site to Bluehost, the provider will only do so at a cost of $149.99. The good news is that this charge covers the migration of up to 5 websites and 20 email accounts.
Free SSL Certificate:
Google is very serious about the security of netizens & this is why they have made an SSL certificate as one of the search engine ranking factor. Bluehost offers free SSL certificate to every new & existing user. This is very important for any blogger who is starting a new site on Bluehost or migrating an existing website to Bluehost.
What I really like about them is; a user doesn't have to be technical to use the SSL (HTTPS version of the site). Everything is straightforward & makes it easier for them to offer a secure version of the site. It's definitely newbie friendly.
Also Read – Astra Theme Review Oct 2022
Pros of Using Bluehost Hosting
Bluehost has been around since 2003, so they have plenty of experience to know what makes a hosting service excellent.
Their introductory prices are affordable, customer support is easy to reach and helpful, and you get many useful features to go with your hosting plan. In addition, they provide reliable uptime and fast server speeds.
Let's take a more detailed look at Bluehost's strong points.
1. LOW INTRODUCTORY PRICING ($2.95 PER MONTH)
Take a look while i dive deep in on blue host pricing and plans down below
If you where to check out the starting prices, you'll notice the lowest advertisement price at $3.95 per month. Which is considering they've reduced the price from $7.99 per month originally.
For this price you get pretty much everything you need for a single website. It includes 50 GB SSD storage, unmetered bandwidth, a free SSL certificate, and more.
So you'd be getting a good value for the price, plus there consistent uptime and page loading speeds.
So yea starting you webhost for a low price of $2.95 isn't half bad.
2. Fast Page Loading Speed (581 ms)
"As page load time goes from 1s to 3s the probability of bounce increases 32%."
This translates to your visitors being 32% more likely to leave your site. And it only gets worse with longer page load times.
Furthermore, Google is more geared towards mobile-first indexing. This means that your site also needs to be optimized for mobile users, or otherwise, you're losing traffic.
Either way, a slow website almost always means less traffic and, therefore, lower sales numbers. So right after uptime, page loading time is the second most important thing that can make or break your website's success.
Our test site with Bluehost has offered an average load speed of 581 ms over the past year. While it isn't competing for the top positions, it isn't bad either.
Bluehost's average uptime and load time statistics: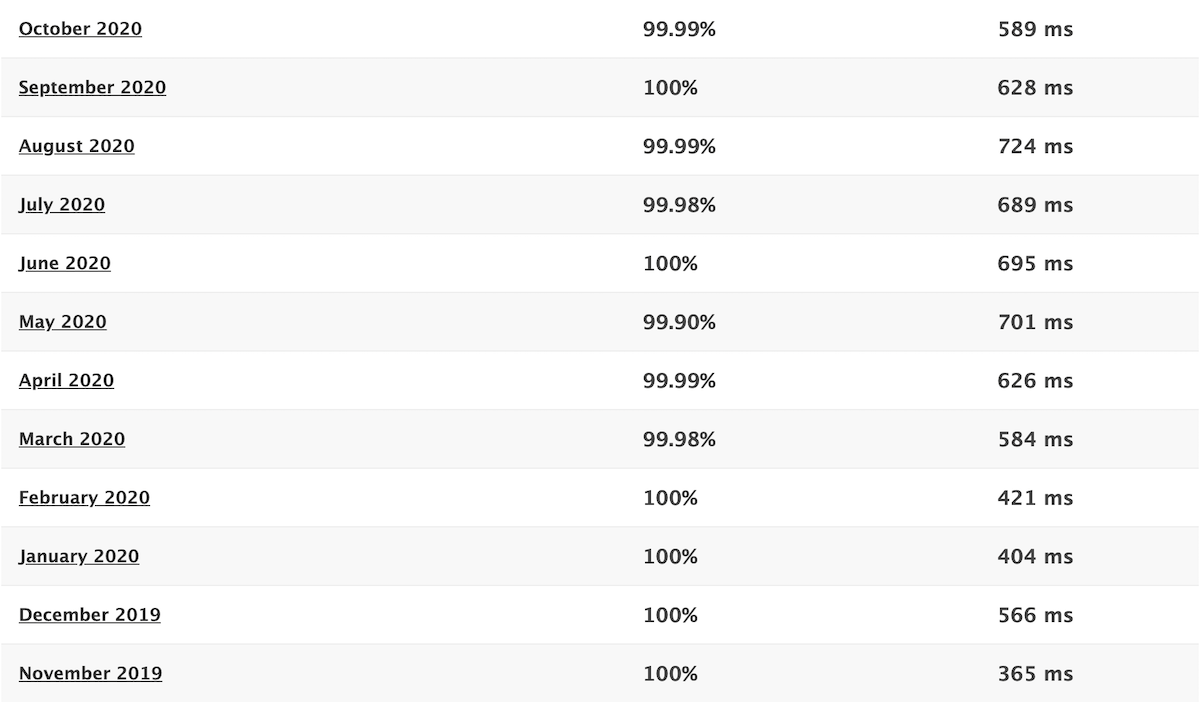 3. MANY INTEGRATIONS, APPS, AND ECOMMERCE FEATURES
Other than the security features, Bluehost also provides to huge number of different apps and integrations so that you may use the most popular services on the web.
For example, they have a domain manager if you'd rather just purchase and manage multiple domains through them. You can set daily, weekly, or monthly backups just incase.
You can install WordPress with a single click (there will be more information on the section below). You can also install other popular content management systems (CMS) like Drupal, Joomla, run an e-commerce shop, and more.
Also, Bluehost will even include access to a Content Delivery Network (CDN). These host your images and large files, taking that work off your servers, to deliver them faster to users around the world and keep your site quick at the same time.
4. Packed with Security Options and Features
Since Bluehost is one of the "cheapest" options on the market, we are pleased to see that they don't cut too many corners on critical security options and features.
Already with the cheapest plan, Bluehost provides your site with a free SSL certificate. You also get access to great features like a free CDN (Cloudflare), a one-click WordPress install, multiple CMS integrations, and additional eCommerce plugins.
Higher-tier plans come with the Spam Experts add-on, domain privacy protection, and server backups. Also, you get more advanced security features such as SiteLock, which helps prevent malware attacks. Codeguard is another form of protection, which provides daily backups so you can roll back previous versions of a site, should it get hacked. Postini, from Google, is the final security tool worth noting. It provides spam protection for your email, so anything suspicious is prevented from getting into your inbox.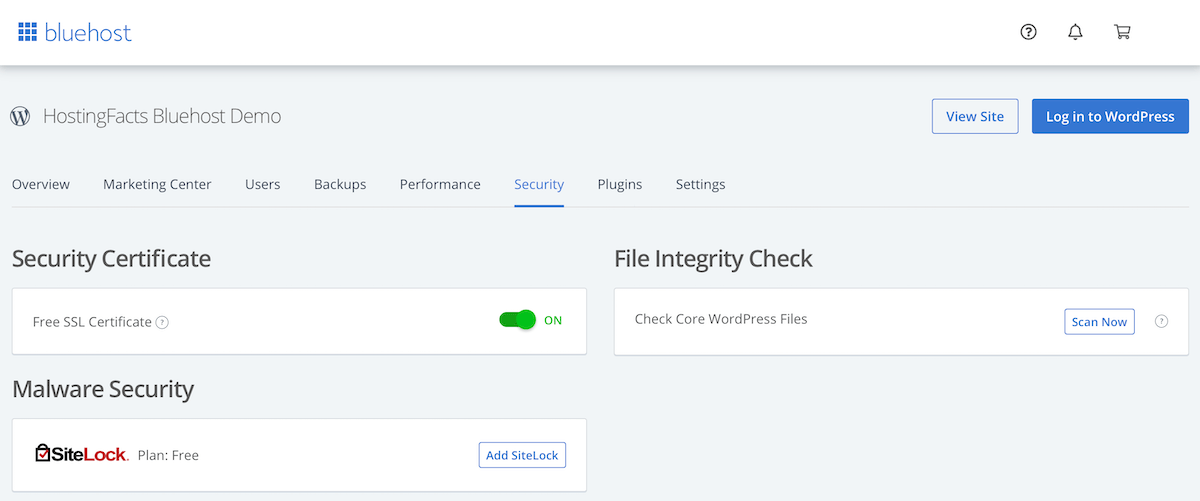 5. 30 DAY MONEY-BACK GUARANTEE
Getting the best deal on web hosting usually means prepaying for a few months, a year or several years at a time.
Bluehost is no different — more on that below. But they do offer a 30-day money-back guarantee on their plans.
You can try out the service to gauge their performance for yourself, and then still ask for a refund if you're not completely satisfied. We have a few words of caution, though.
According to their terms, here's what does and doesn't fall under that guarantee:
You can only get refunds on the web hosting cost, not any other products like domains or other add-ons.
A $15.99 fee will be deducted if you received a free domain name in your plan.
Any requests after 30 days will not be refunded.
It's not exactly a no-questions-asked policy like we've seen from some hosts. So make sure you're OK with those points before signing up.
6. Easy to Use for Beginners
Some of the web hosts we've seen can be considered the best only if you're an advanced user. But, Bluehost is great for beginners, too.
Their customer portal is intuitive and clean (although, we have experienced it being a bit slow at times). And the layout of the cPanel control panel makes Bluehost even easier to use. Beginners can easily install and start WordPress through cPanel. All you need to do is point and click in most cases.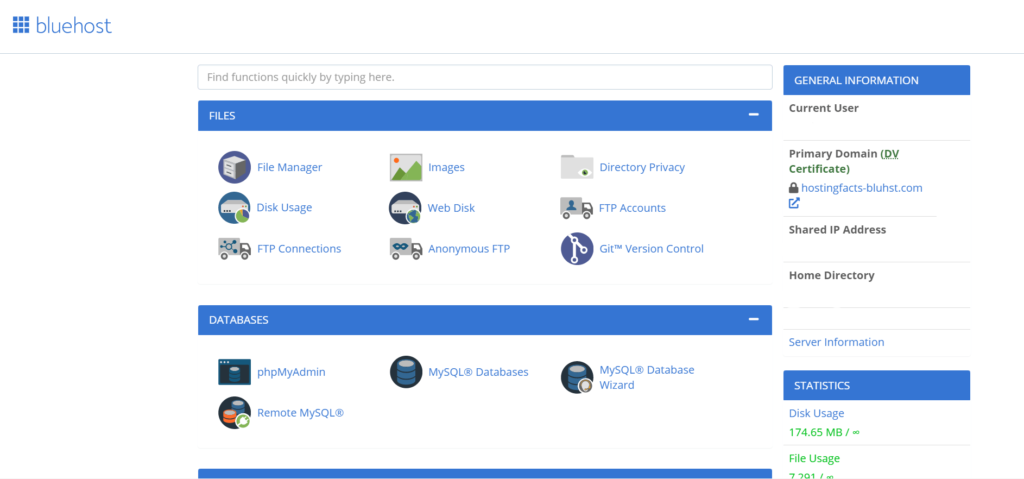 If you don't want to use WordPress, you can also begin creating a website with a website builder tool (such as Weebly or Drupal). You can then customize a template by just dragging and dropping elements on your page.
Bluehost also has features for advanced users who want to use their code to create their site.
7. CUSTOMER SUPPORT
Bluehost offers everything from a knowledge base, to live chat, email ticket support, and even phone support. We tried out the live chat and Vinutha from Bluehost connected within two minutes.
There were slight delays between each reply, but overall, Vinutha was extremely friendly and offered direct answers to each question. It was a painless experience, which is exactly what you want out of a host's customer support.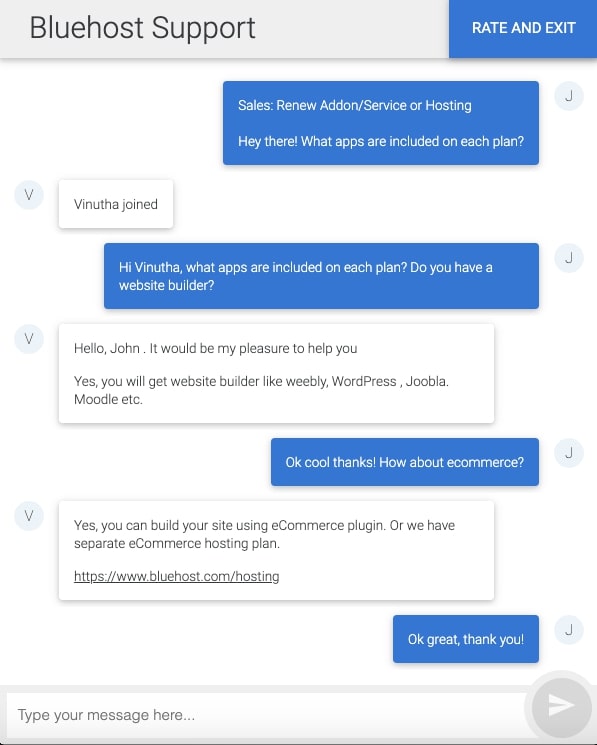 8. One Free WordPress Site Transfer
If you already have a site and want to switch to Bluehost's hosting plan, then this perk is for you.
Bluehost only recently started offering a free site transfer with all of their plans.
There are a couple of terms to this free service, though. First, the site needs to be a WordPress site. And secondly, you have to request the migration within the first 30 days after signing up with a hosting plan.
All you need to do is contact their customer support team and follow their directions. The migration usually takes around 1-3 business days to complete.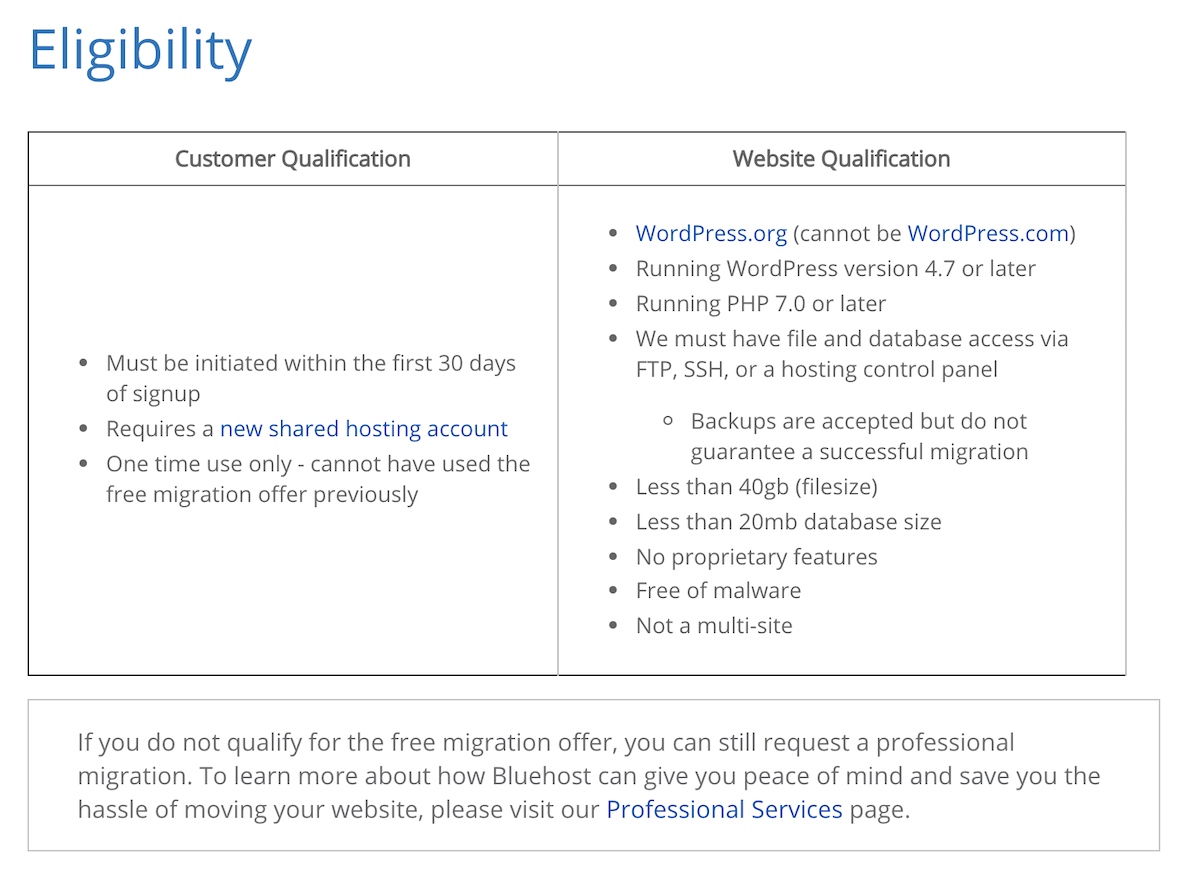 If you don't have a WordPress website or have more than one then it costs $149.99. This gets you up to 5 website migrations and 20 email account migrations.
9. THE "OFFICIAL" WORDPRESS.ORG RECOMMENDED HOST
WordPress is the most use platform on the market.
They only officially recommend three hosting partners to use with a WordPress site:
Of course, you can use almost any web hosting provider to create a WordPress site, but the fact that Bluehost is one of the few officially recognized partners is encouraging.
Cons of Using Bluehost Hosting
Bluehost has some great perks going for their hosting service, but there are a couple of hiccups too.
Even though we're happy to see such low introductory prices, the renewal rates can get a bit steep.
Let's take a closer look at these downsides.
1. Higher Renewal Rates
The best way to get the lowest possible price for hosting is to prepay for one, two, or even three years upfront. The average monthly price decreases, but you're also committing hundreds of dollars in advance.

Rest assured, you can use the 30-day money-back guarantee to get a refund if you don't like their service. However, once the initial plan duration is over, you can expect a steep rise in the rates.
Let's say you commit to the cheapest plan for three years, which is $2.75/month. After the initial period, the next period's renewal price starts at $7.99/month with a three-year commitment.

In this case, the subsequent period is three times more expensive than the first.
2. SITE MIGRATIONS ARE NOT FREE
Most web hosts we've reviewed will move your existing website over to their service for free. They see it as a friendly service that helps make new customers happy, so they'll wave any fees.
Unfortunately, Bluehost doesn't do free migrations.
They have a one-time fee of $149.99 that includes the migration of up to five websites, 20 email accounts, and any other database files for these sites.
They claim it'll be quick and seamless, so you won't experience any delays or downtime.
However, the fact that you have to pay for it, and pay so much, is a big "Con" to consider.
3. Cheapest Plan Restrictions
Bluehost's cheapest shared hosting plan comes with some heavy restrictions.
You can only have a single website, the storage space is limited and the only security feature you get is a free SSL certificate. So, if you have multiple sites or want more security, you have to go for at least the next pricing tier, which is twice as expensive.
Sadly, such restrictions on the cheapest plan are quite common in the web hosting industry. The companies compete over who can lure the customers in with the lowest price, only to upsell a decent hosting service at a higher price.
Pros and Cons In short
Pros
Cons
The first term is cheap: But be aware of the renewal rates, they are high.
Solid uptime: Generally speaking, my uptime tests with Bluehost have always been good. But unlike other providers, they don't offer an SLA (Service Level Agreement) that guarantees a minimum uptime.
Generous storage: Their shared hosting plans offer loads of storage.
Unmetered bandwidth: Bluehost won't limit the traffic that your website(s) can get.
Constant upsells: Their system is packed with continuous upsell pitches, which gets annoying.
Speed could be better: In our tests, Bluehost's speed didn't exactly come out at the top of the table. However, it isn't terrible.
Only US-servers: Unlike other providers, you only have the option to host your site in the US. If your readers come from other regions, they could face having a (very) slow site.
Poor backup options: The entry-level plans don't have a good backup solution.
Is Bluehost easy to use?
Bluehost uses cPanel, which is so far one of the easiest hosting panels that I have come across. In 2020 they have revamped their dashboard to make it WordPress centric. You can still access cPanel from Bluehost Dashboard, but probably you may never have to use it with a newly advanced Bluehost dashboard.
Just for info, most of the shared hosting companies use the standard cPanel, and you will not find it hard to use. In fact, cPanel makes managing your hosting account easier. Also, Bluehost is one of very few shared Web hosting companies which will allow you to access SSH.
Here is how Bluehost WordPress management dashboard looks like:
As I heard, BlueHost are going to constantly upgrade their infrastructure for WordPress. It also makes sense as WordPress is now powering over 27% of the websites in the world. Since Bluehost is now WordPress centric, we can expect superior services in coming months.
BLUEHOST PRICING, HOSTING PLANS & QUICK FACTS
Bluehost ranks highly in our research for value for money, with a score of 4.6/5. The best part? All Bluehost plans come with a 30-day money back guarantee. Shared hosting is Bluehost's cheapest plan, at $3.95/month for the first year and $7.99/month after that. Dedicated hosting is the most expensive plan, starting at $79.99/month.
Bluehost Starting Prices:
Shared hosting: $3.95 per month, renews at $7.99 per month
WooCommerce hosting: $15.95 per month, renews at $13.99 per month
VPS hosting: $19.99 per month, renews at $29.99 per month
Managed WordPress hosting: $19.95 per month, renews at $29.99 per month
Dedicated hosting: $79.99 per month, renews at $119.99 per month
Quick Facts
Money-Back: 30-day money-back guarantee.
Website Migration: Free transfer for 1 WordPress website. Other migrations are $149.99 for up to 5 websites and 20 email accounts.
Free domain? Yes, for the first year. Then renews at $15.99 per year.
Ease of Sign-up: Easy and guided sign-up process.
Payment Methods: Major credit cards and PayPal.
Hidden Fees and Clauses: No refund on domain names. Renewal rates for both domains and hosting are much higher than the introductory rates.
Upsells: Some upsells during sign-up, but nothing too aggressive.
Account Activation: Instant activation in most cases. If the information is inaccurate or there's suspicion of fraud, activation might get delayed.
Control Panel and Dashboard Experience: Easy-to-use cPanel
Installation of Apps and CMS (WordPress, Joomla, etc.): Mojo Marketplace makes app installation quick and easy.
Do We Recommend Bluehost?
Yes, we do.
Bluehost has performed slightly better in the past, but they still provide a reliable service with decent server speeds.
Also, they offer strong security options, a great money-back guarantee, plenty of user-friendly apps, and multiple tiers of hosting packages suitable for different customers. The pricing starts at $3.75/month with our special deal.
Still, Bluehost isn't perfect, though. The hosting plans' renewal rates will increase dramatically after the initial signup period, and the cheapest plan has some critical restrictions compared to the next tiers.
But overall, Bluehost delivers decent performance and good value for your money.
For any Query Comment below or mail me 🙂
Happy Blogging
Disclosure: When you purchase a service or a product through our links, we sometimes earn a commission