Best Things To Do In London-
London can be an expensive destination to visit, but throughout the city, you'll find plenty of things to see and do which are free. Including top attractions, viewpoints and other activities allowing you to have a great trip without spending too much. Here are the top free things to do when visiting London.
1. Visit Camden Town
Camden Town is one of the coolest and unique parts of the city. You'll find shops with interesting designs built into the facades, an awesome street food market, the canal and Lock to relax around, and various other cool elements which you'll discover yourself when you visit.
2. Sneak a peek at the British Museum
The British Museum is one of the world's best museums, with the 80,000 objects on display making up for only 1% of the 8 million objects in the Museum's possession. You can see all kinds of stuff displayed here – from Egyptian mummies to the famous Rosetta Stone to ancient Anglo-Saxon treasures from pre-medieval Britain. This museum has been the most visited museum in the UK and makes for one of the most exhilarating free things to do in London.
Timings: 10 AM to 8:30 PM
3. Greenwich Park
Head to the top of the hill in the centre of Greenwich Park and you'll be treated to a spectacular free view of the city: the skyscrapers of Canary Wharf loom up behind the 17th-century Queen's House, and beyond, the Thames snakes its way into the heart of London. It's a perfect spot for a picnic in the capital on a summer's day. best things to do in london best things to do in london best things to do in london
4. Notting Hill Carnival
If you are lucky to be in the city during the summer you may be around for the awesome Notting Hill Carnival. This huge event takes place every year and a huge part of the famous Notting Hill area of London is taken over. At the festival you'll find a fantastic colourful parade, music, food and a wonderful atmosphere to enjoy. To keep it cheap you could take your own food and drink in a backpack. For more information head to thelondonnottinghillcarnival.com. best things to do in london
5. The Changing of the Guard
One of the best ceremonies in the city, the Changing of the Guard takes place every Monday, Wednesday, Friday and Sunday at 11am outside Buckingham Palace. Dressed in bearskin hats and red tunics, the Queen's Guard stomp around in time to music in a display of awesome pageantry, as they switch responsibilities with one another.
6. Portobello Road Market
Located in the heart of charming Notting Hill, atmospheric and energetic Portobello Road Market sells everything from vintage clothes and sumptuous street food to antiques. It's busiest on Saturdays, but there's always something going on (except Sundays, when only shops rather than stalls are open).
7. Capture the Street Art In East End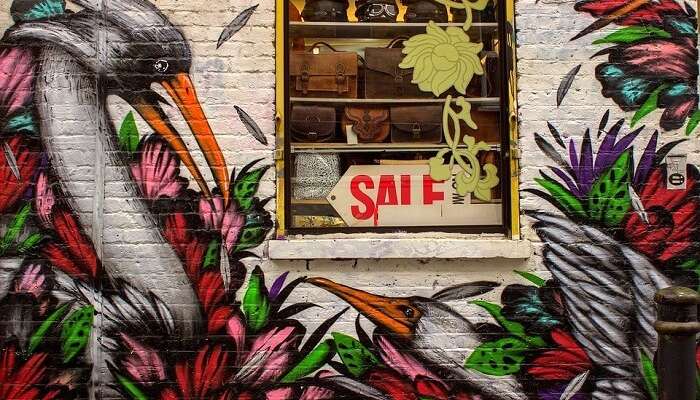 You can always find some interesting (and worth posting on Instagram) graffiti at the East End streets, the antithesis of the posh West End London. Shoreditch and Middlesex are popular spots for vandals/street artists who paint the most striking contrast of the flash of the city with life in East End, and you must also check out Brick End and Sclater Streets, and chasing these down are one of the most unusual things to do in London.
8. Walking Tours
You'll be able to find free walking tours throughout the city. These, although advertised as free, are actually for tip and donations, but if you're on a budget there's no pressure to give that much.
As well as a guided group tour you could also download an app and use that as a guide. Head to the Play Store (Android), Apple Store (IOS), or other app stores to begin your search.
9. Hampstead Heath
This enormous, ancient parkland is one of the best places to escape the city while at the same time catching an amazing view of it: the vista from Parliament Hill, which forms the southeast part of Hampstead Heath, is so impressive it's actually protected by law. Elsewhere in the park you'll find a zoo, three swimming ponds (nominal charge, which is often ignored) and plenty of quiet spots for a back-to-nature-in-the-heart-of-London picnic.
10. Walk Along the Thames
Although the River Thames isn't the nicest colour, it still makes for a great walk and is especially pretty at night.
11. Relax in a Royal Park
London has beautiful parks throughout the city and these are perfect as a place to relax with a picnic, to read a book, walk, run, or just explore.
I would recommend Richmond Park for a great day out and you may even see wild deer. Head to Primrose Hill for views over the city, St James's for ducks, geese and other wildlife, or the huge and impressive Hyde Park is another great option. For all the best parks head to royalparks.org.uk/parks.
12. Science Museum
The highly informative and entertaining Science Museum fills five floors with interactive exhibits. The Energy Hall highlights the first steam locomotives, which date from the early 19th century, while the third-floor exhibits, which include old gliders, hot-air balloons and flight simulators, are popular with kids.
13. Catch a free concert near Kensington Gardens
The Kensington Gardens are a great place to spend the day outdoors. The place is not devoid of London treasures – the Albert Memorial, the Peter Pan Statue, and the Diana Memorial Playground. The Round Pond is a great place to go for fun activities in London for kids. After you are done here, you can then walk into any of the many Royal Parks – Hyde Park, Regent's Park, Green Park, and the St. James' Park. Hyde Park is also the venue of some of the most popular British and international acts and is quite a landmark for music fans.
Location: Park Lane
14. Sky Garden
Offering perhaps the best free vantage point in Central London, the indoor viewing decks and restaurants occupying the top three floors of 20 Fenchurch Street (known to locals as the 'walkie talkie') are a great place to hang out without spending a penny. It is open daily, just book your (free) visit in advance.
15. Houses of Parliament
Home to the world's most famous clock, Big Ben (officially the Queen Elizabeth Tower, but no one calls it that), the Houses of Parliament is a neo-Gothic wonder built in the mid-19th century. It is made up of two houses – the Commons and the Lords – and if you reserve ahead (or just try your luck on the day) you can go inside to watch British democracy in action.
Summary
Here it is only 15 best things to do in London but london has so much to do in the city from free activities to things that can cost a fair whack. You could think of it as a city that caters for everyone.
Planning for summer vaccations?
check out this: https://theyashgoyal.com/5-most-stunning-places-in-europe-you-can-visit-this-summer/