Nepal still evades travellers' bucket lists, and we for one can't understand why: the views are stunning (you have jungle, lakes, and mountains), the people are friendly, it's home to once-in-a-lifetime treks and it's safe and affordable. So what are you waiting for? Here are our 12 reasons to visit Nepal in 2021.
1.THE MOUNTAINS
Nepal's mountains don't really need any introduction. They're why most travellers come in the first place. Whether you're planning to trek through them, see them from a sightseeing flight, or just admire them on the skyline, the Nepali Himalaya will not disappoint.
2. Trek to Everest Base Camp
People flock from all over the world to attempt the arduous (but doable) hike to Everest Base Camp (the South side, as the North Base Camp is in Tibet). At an altitude of 5,364 metres (nearly 18,000 feet) and some of the best mountain views in the world, the multiple-day trek is well worth the effort. Of course you'll want to remember to take it slow and steady, with lots of training completed beforehand so that there are no surprises while you're completing the 5 to 6 day hike to camp. Oh and remember to acclimatise, acclimatise and acclimatise!
Also Read – 9 Famous Temples in India You must Visit
3. Climbing
Nepal is popular for its peaks as eight out of the fourteen highest mountains in the world, are situated in Nepal which are above 8000 meters. Those are the Mt Everest, Kanchanjunga, Lhotse, Makalu, Cho Oyu, Dhaulagiri, Manaslu, and Annapurna mountain. Along with the majority of the highest Himalayas, Nepal is also popular for mountain climbing/trekking/hiking. If you're an avid climber then you should consider visiting Nepal. With the renowned peaks, landscapes, and sceneries, Nepal is considered as at the top. Climbing is an absolute adventure activity in Nepal, with such high mountains waits to be conquered.
4. Whitewater Rafting in Nepal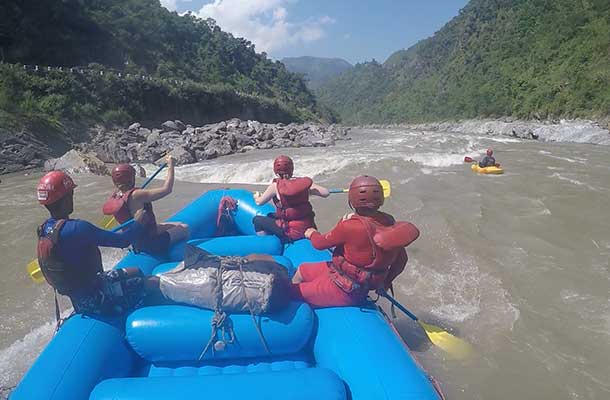 From these mountains flow numerous fast-flowing rivers, which means some of the best whitewater rafting in the world. There are a variety of grades to tackle on the river with multiple or single-day trips available.
Either of which will have you laughing, screaming, and smiling your way through the rapids, leaving you wanting more.
This is an adventure that was right at the top of my list for Nepal.
5. It's perfect for adrenaline junkies
The jungle isn't just for safaris, the wild environment is also perfect for adrenaline junkies. Whether it's crossing the country by mountain bike, motorbike, rafting the rivers, mountaineering, hitching hot air balloon rides or bungee jumping, you'll find an adventure ideal for you, with the bonus of stunning landscapes passing you by. For an extra adrenaline rush, why not try some waterfall ice climbing – literally using ice picks to scale vertically up a frozen waterfall – in Lantang Valley or Annapurna Sanctuary.
6. THE HINDU CULTURE
A majority of Nepalis–more than 80%–follow Hinduism. In fact, until it became a republic, Nepal was the only Hindu kingdom in the world. Hinduism can be seen all throughout society, from big, grand temples like Pashupatinath to small family shrines in a corner of a home or courtyard. Plus, many of Nepal's annual festivals are Hindu. There are many opportunities to learn about Hinduism in Nepal.
7. Pristine Lakes and Rivers
There are over 200 lakes and rivers in Nepal. The crystal-clear lakes and rivers have an aesthetically pleasing view. The most popular lake is Gokyo Lakes in the Khumbu region. They say the views of the Everest from Gokyo is one of the best views you will ever witness. Moreover, the lakes of Nepal are holy and religious importance. For instance, Gosainkunda Lake (4380 meters) in the Langtang region is considered as a holy lake where people visit during the festival of Janai Purnima. Some beautiful lakes in Nepal are Tilicho Lake, Phewa Lake, Rara Lake, and Shey Phosksundo Lake.
8. Thermal Paragliding in Pokhara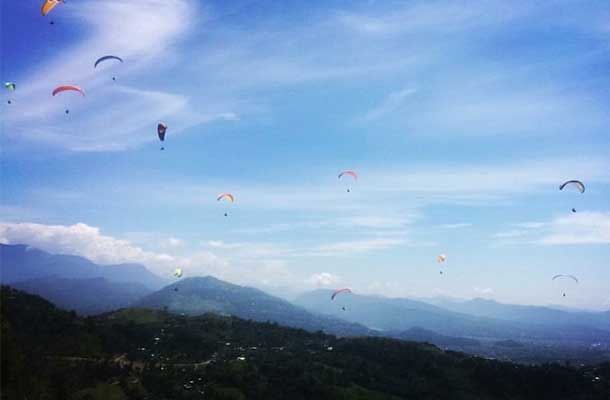 Another thing Nepal – or more specifically, Pokhara – is famous for is its thermal which makes for paragliding heaven.
Soaring on top of the hills in Sarangkot with an incredible view of the Himalayas is an experience you won't soon forget.
If you are a real adventure-lover, you can also ask your pilot to do some acro-moves to test out the strength of your stomach.
9. THE FOOD
Anyone who tells you that Nepali food is just like Indian food has clearly not spent long in either country. Nepali food revolves around rice and curries of various sorts, but the ingredients, flavours, and preparation is quite different from Indian curry. Plus, there are Tibetan influences like momos and noodle soups, and spicy Newari cuisine.
10. The peace and serenity
With Buddhist influence, plenty of lakes and stunning views, it's no wonder that the Nepalese are regarded as happy people and Nepal itself has been considered a sacred place for many years. This is where to go if you want to get away from it all: it's spiritual and perfectly allows for some quiet contemplation whether you're trekking, temple-hopping or gazing over a still, glass-like lake. Believe it or not, even the adrenaline-pumping adventures will offer some serenity – how could it not when Nepal has this much unrivalled beauty?
11. THE SHOPPING
Whether you're looking for yak wool shawls or Nepali tea, topographical maps of the mountains or outdoor clothing, you can find it in Kathmandu and Pokhara. Fair trade shops such as Sana Hastakala and Dhukuti are particularly great places to shop for handicrafts, while at Timro Conceptstore, the Local Project, and Of Silk & Salt you can find modern designs.
12. It's affordable
With hotel rooms for less than $20 (and guesthouses sometimes as little as $5), food for a day at $10 and budget experiences and activities, Nepal is a surprisingly affordable destination for travellers – it's pretty easy to spend about or less than $30 a day. Of course, there are the more expensive options, like top hotels at around $150, but even with these, you'll be getting one of the best rooms in the building. In the countryside, you shouldn't be looking to spend more than $40 a night for a very comfortable stay. So if money is your Everest, this trip will be no problem for you.
Deals On Hotels, Flights etc- Click Here