Hot springs are one of nature's best gifts to humankind. Bubbling right out of the earth are these natural hot tubs, just waiting to soak away your cares while you relax surrounded by forests, mountains, starry night skies, and the like. Oregon has many amazing hot springs situated in several equally amazing settings. From well-known hot spots (pun intended) like Bagby Hot Springs to hot springs, you'll have to work to get to, and even clothing-optional hot springs, find your toasty bliss with this list of the best hot springs in Oregon.
1. Umpqua Hot Springs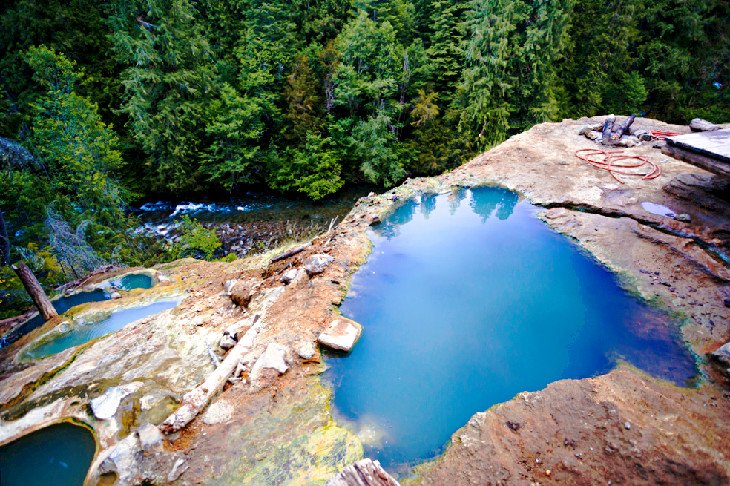 One of the more popular hot springs in Oregon, Umpqua Hot Springs, deserves all the hype it receives.
These springs, located in Umpqua National Forest, overlook the North Umpqua River. With Toketee Falls just down the road and several other waterfalls within minutes, this is the perfect place to spend an entire day adventuring.
It's a short but steep hike from the parking lot, however, it can be accomplished by people of any fitness level. While there isn't a ranger typically working the parking lot, it does cost $5 to park, so be sure to bring cash.
I highly suggest visiting during a weekday, early in the morning, or later at night due to its popularity. Also, note that clothing is optional at these hot springs, so don't be surprised if other visitors strip down.
There are several pools available for soaking, some with hotter temperatures and others with cooler temperatures. Visiting the hot springs when others aren't around is beneficial; you can choose which pool and temperature work best for you.
Also Read- Best things to do in Malaga Spain
2. Paulina Hot Springs, Newberry National Volcanic Monument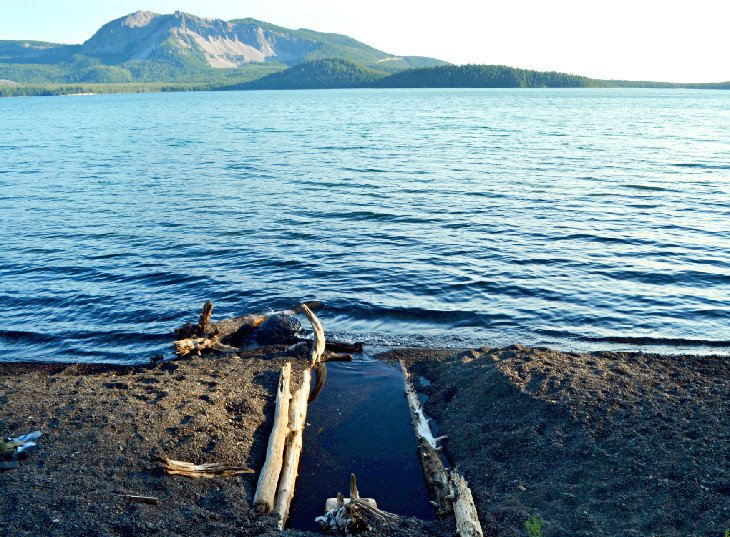 Within the Deschutes National Forest and Newberry National Volcanic Monument, near Bend, Paulina Hot Springs is a gorgeous lakeside soaking spot. It's accessed by a two-mile hike on the shoreline of Paulina Lake. Visitors will find small soaking spots dug out of the rocky shoreline after making the scenic trek next to the water. Small waves coming off Paulina Lake add the perfect amount of cold water to the hot pools, and the eye-level view of the lake and surrounding topography add an aesthetic appeal to any soak.
The trailhead for Paulina Hot Springs is located at the end of one of the best campgrounds in Oregon, and overnight visitors to Little Crater Campground also enjoy easy access to the water.
Accommodation: Where to Stay in Bend
3. Bagby Hot Springs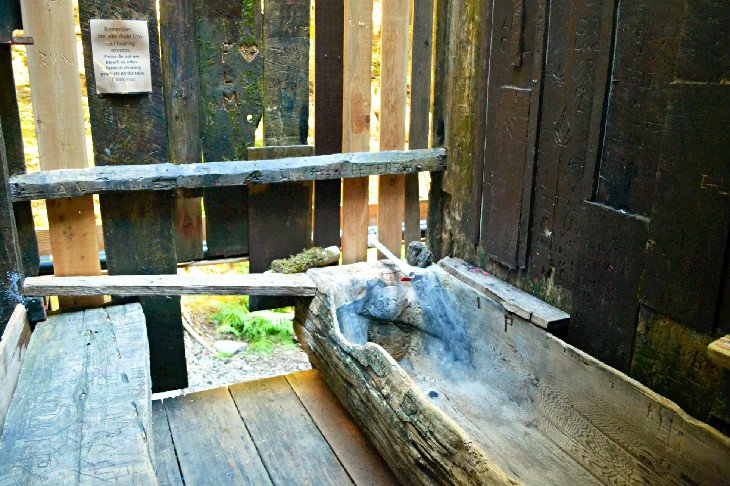 Located at the end of a 1.5 mile hike that meanders through old growth cedars, Bagby Hot Springs is a great choice for a first time hot spring experience. They offer a variety of pools and private bathing rooms for a $5 day use fee. Bagby is a popular spot, so plan to go in the morning or the winter to avoid some of the crowds. Nudity is common, though technically only allowed in the private bathing rooms. The hike alone is worth the trip, and there are several swimming holes along the trail if that's more your style.
4. Belknap Hot Springs
ADDRESS: 59296 N, Belknap Hot Springs Rd, McKenzie Bridge, OR 97413, USA
PHONE+1 541-822-3512
WEB Visit website
While many hot springs are not developed at all or only sparsely developed, Belknap Hot Springs offers a well-developed alternative. Located about an hour east of Eugene, its two soaking pools are tiled and look much like swimming pools complete with decks and chairs to relax in.
Belknap is part of a property that also has gardens, some lodge rooms, RV sites, cabins, home rentals, and campsites, so it's an easy hot spring for not just a soak, but a vacation. For most of the year, only guests of the lodge can use both pools, while anyone with a day pass is relegated to the lower pool. Swimsuits are required, and children must be out of diapers (or swim diapers) to enter. Nearby, play in the McKenzie River; see lava beds or waterfalls near Sisters, Oregon; or even go skiing at Hoodoo Ski Bowl about 30 minutes away if the season is right.
5. McCredie Hot Springs, Willamette National Forest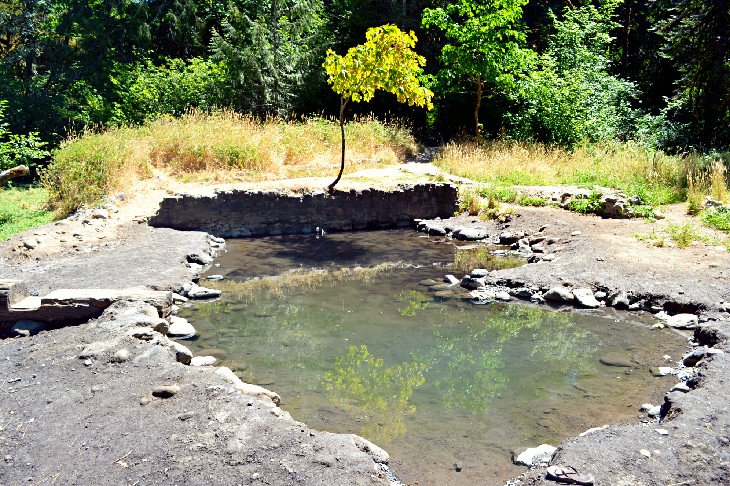 Once the site of an early 20th-century resort, McCredie Hot Springs is now an undeveloped hot springs easily accessed from the road. Twelve miles from one of the largest and best waterfalls in Oregon, Salt Creek Falls, McCredie Hot Springs are also on the banks of Salt Creek and provide a variety of soaking spots to enjoy.
These clothing-optional and day-use only hot springs are on both sides of the creek, with water temperatures as high as 130 degrees near the source (use caution when dipping in toes). Other soaking areas at McCredie provide cooler water to enjoy, and the adjacent Salt Creek itself provides cold water for a refreshing dip.
6. Willow Creek Hot Springs
Willow Creek Hot Springs is a small pool located four and a half hours southeast of Bend near the border of Nevada. Temperatures hover around 102 degrees with campsites available nearby.
Unlike other Oregon hot springs, this pool flies under the radar and is considered a hidden gem among locals.
Making a visit to Willow Creek Hot Springs will likely result in a vacant hot pool surrounded by beautiful desert scenery.
7. Cougar Hot Springs in Oregon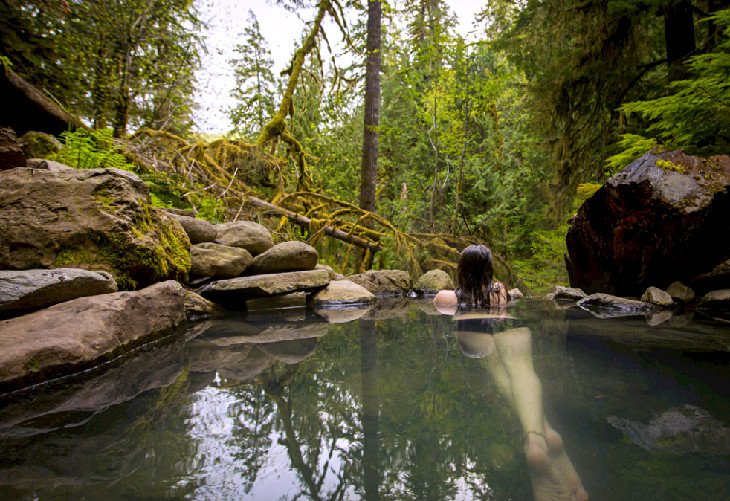 ADDRESS: Terwilliger Hot Springs, Oregon 97413, USA
Cougar Hot Springs is also known as Terwilliger Hot Springs and is a solid favorite, meaning you likely won't be the only person there. It's approximately an hour away from Eugene and offers six pools to soak in. The pools are surrounded by rock walls, of sorts, and cascade down a ravine, so that each is a little lower than the one next to it. The temperatures vary with the hottest pool being 112 degrees F and the "coldest" is 90 degrees F.
The pools range from 3 to 12 feet across and are up to 3 feet deep. A perk of visiting these hot springs is that the hike into the Willamette Forest to get to them is only about a 1/4-mile. Clothing is optional.
8. Hart Mountain Hot Springs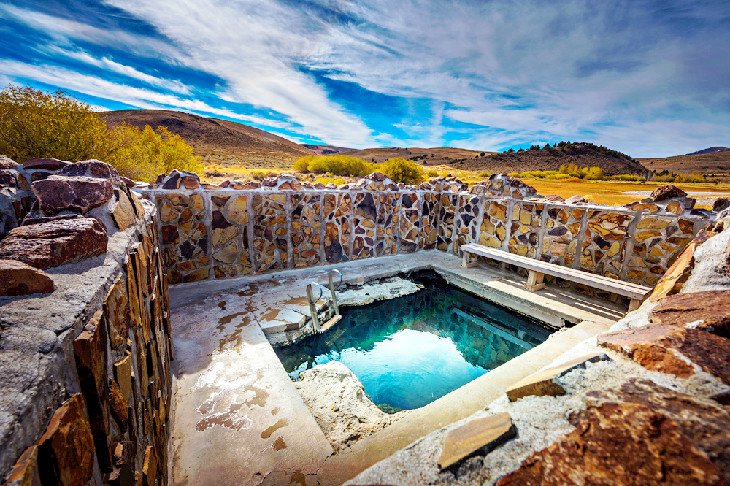 As part of the Hart Mountain National Antelope Refuge, operated by the U.S. Fish & Wildlife Service, Hart Mountain Hot Springs can be found in a far remote area of southern Oregon. The main hot spring to visit features landscaped rocks, which make for a comfortable seat, and another small pool nearby offers views of the surrounding vast and open landscape.
The pools are moderate in size, fitting a group of four comfortably, though thanks to the remote location these hot springs are much less busy. Thirty primitive campsites are available at the Hot Springs Campground nearby, and overnight users will want to pack their own drinking water.
9. Bigelow Hot Springs – "Deer Creek Hot Springs"
Bigelow Hot Springs or "Deer Creek Hot Springs" can be found nestled along the bank of the McKenzie River in Willamette National Forest.
The pictures from this hot spring are some of the coolest pictures we've ever taken, but don't be fooled. We visited these hot springs in November and they were quite cold. We were miserable and left after 5 minutes.
Although they weren't really enjoyable during the winter months, I've heard wonderful things about visiting in summer or fall.
10. Alvord Hot Springs
Small and secluded, Alvord Hot Spring is a hidden gem in SE Oregon. Located at the eastern base of Steens Mountain and on the western edge of the Alvord Desert is a small but well maintained hot spring pool. There is a day use fee of $5, which is well worth it for a soak offering such expansive and gorgeous views. Be sure you have a full tank of gas before making the trek out, as things get pretty remote in this part of Oregon. 
11. Summer Lake Hot Springs
ADDRESS: 41777 Oregon 31 Mile Marker 92, Paisley, OR 97636, USA
PHONE: +1 541-943-3931
WEB: Visit website
While some hot springs are rustic treasures in the middle of nowhere, others offer more of a retreat experience. Summer Lake Hot Springs is one of the latter. Located in the stunningly beautiful Paisley, Oregon, in what's called Oregon's Outback, Summer Lake offers 145 acres of sheer beauty…and some hot springs too.
The hot springs are rustic with rock walls, yet maintained, and there's a larger indoor pool as well. They are naturally around 110 degrees F. You can stay right on the property in cabins or vacation homes that all come with geothermically heated floors, or at one of the RV or camping sites. There's plenty to do in the area, including festivals throughout the year, hiking, fishing on the Chewaucan River, or venture to Picture Rock Pass to see some ancient petroglyphs.
Sharing Is Caring 🙂