We are all in the middle of a pandemic, and our wanderlust mind could not be more restless than now. And while we are already making a list of places to visit, Rajasthan should be on the top of it all. From cities of pink, blue and gold to desert camps and lakeside palaces and desert camps, Rajasthan is India's brightest and most beautiful region. If you need more reasons to visit Rajasthan, here's a list of the top 10 Best Places to Visit In Rajasthan.
1. Jodhpur, A Place To Taste Royalty
Affectionately called the "Blue City" because of its blue painted buildings, Jodhpur is the second largest city in Rajasthan. The walled old part of the city is presided over by Mehrangarh Fort, which provides the best outlook across Jodhpur's blue buildings. It's one of the largest and best maintained forts in India. Inside are a number of ornate palaces, a museum, and restaurant. There many inexpensive yet characterful places to stay in Jodhpur with views of the fort. It's refreshing to do nothing but relax on their rooftops and soak up the atmosphere.
Bishnoi is a community of nature worshipers only 45 minutes or so from Jodhpur and can be covered in a day trip. Bishnoi Village Safari organizes excursions and accommodations.
Highlights
Meherangarh Fort, perhaps Rajasthan's most impressive and imposing, is the main draw here.
The maze of streets in the old town is also worth exploring for a taste of traditional life in the city. The view of the old city from above is also not to be missed.
Best time to visit: The winter (October – March) is the best time to visit, and during this period there are several interesting festivals — bring warm clothes as temperatures are occasionally chilly. Daytime in summer (April – July) is hot, but evenings can be cool and pleasant. Monsoon season (July – August) is cooler than summer and less busy, but during this period, the city sees moderate rainfall.
2. Udaipur, The City Of Lakes
Popularly known as the Kashmir of Rajasthan and the Venice of East, Udaipur is one of the most romantic destinations in India. Soothing lakes, fairy-tale-like palaces, romantic spots and whitewashed Havelis are what every tourist gets to experience when in Udaipur. Also, known as the City of Lakes, Udaipur speaks of azure water lakes drenched with beauty and romance, and fascinating sights.
Highlights
Visit the City Palace,
admire the serenity of Lake Pichola and watch Octopussy in one of the restaurants while you have a drink or a meal – part of this James Bond film was filmed in Udaipur, and most places have it playing on a loop.
Best time to visit: Try to visit in winter (October – March) when days are warm, and nights are cold. Summer (mid-March – June) is uncomfortably hot; the monsoon season (July – September) brings occasional heavy rain, thunderstorms and dust.
3. Jaisalmer, The Golden City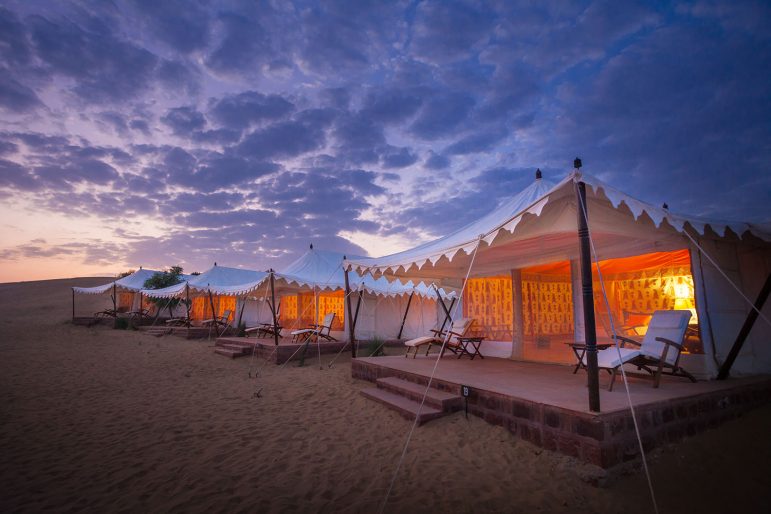 A city glistening with sand-stone houses, palaces and forts, Jaisalmer is an oasis in the middle of a desert — Thar Desert to be exact. A major tourist magnet, the city is an opulent experience of culture, heritage, architecture and history. While the humongous Jaisalmer Fort is an unmissable sight and a major highlight, the ancient lanes and by-lanes have more enchanting havelis waiting to be discovered with their stories waiting to be heard. The desert city is also the most popular base for camel safaris into the Thar Desert, taking you through undulating dunes, exotic desert scenes, and quite possibly the best sunsets and sunrises you'll ever see.
Highlights
Visit Jaisalmer Fort, lose yourself in the labyrinthine warren of streets and seek out the havelis, extravagant mansions with intricate facades of lattice and floral design.
Go on a scenic camel safari into the Thar Desert.
Best time to visit: October, when the weather is at its most amenable, is considered the best month to visit Jaisalmer. Summer (April – July) is unbearable, with temperatures in the high 40s. Monsoon season (August – September) doesn't always see a large amount of rain, but the humidity is unpleasant.
Also read: Explore City Of Lakes : Udaipur
4. Jaipur, The Pink City
The "Pink City" of Jaipur forms part of India's renowned Golden Triangle Tourist Circuit and was recently declared a UNESCO World Heritage Site. Not surprisingly, the city is one of Rajasthan's most popular tourist destinations. It has many famous forts and palaces, with most of them boasting evocative views and elaborate architecture. Staying in Jaipur is particularly enjoyable. Accommodations are reasonably priced and many have been converted from heritage properties, giving guests a very regal experience! Jaipur is an outstanding place to go shopping too.
Highlights
Witness the city from behind the laticed windows of the most famous Hawa Mahal, the 'Palace of the Winds'.
Fall in love with sculptures in Jantar Mantar, the world's largest stone-built observatory.
Explore the city's lively bazaars.
Get a sweeping view of the city from Amber Fort, when you are done appreciating the fort itself.
Best time to visit: The best time to visit is winter (October – March). Daytime temperatures are pleasant, but nights can be cold. During summer (April – June), temperatures can be punishingly hot; the monsoon is from July to September, but Jaipur receives relatively little rainfall. If possible, try to coincide your visit with Jaipur's elephant festival, which is held in March every year.
Jaipur Hotels Where You Can Stay.
5. Bikaner, Home To Temples And Forts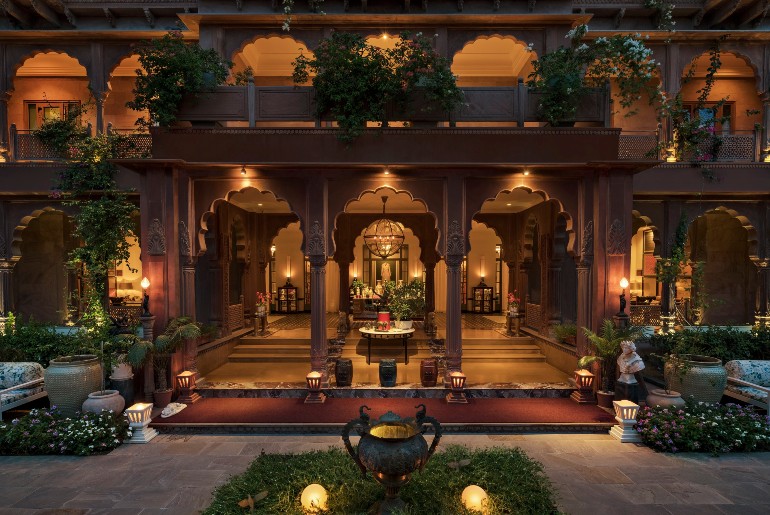 Famed for its locally produced, zingy spices (especially its fiery red chilly powder), Bikaner is a small town that takes you back in time with its rustic charm. The most curious legend attached to this old city is that of Karni Mata, who was worshipped by rats. The famous Karni Mata Temple here is overrun by rats of all sizes, and you must visit it with the furry creatures running around your feet and scurrying on every column and beam. Bikaner also has a camel festival like Pushkar and a desert festival like Jaisalmer, though these are not as widely known.
Highlights
Junagarh Fort, containing fine decorations along with diverse curios and artefacts.
Karni Mata temple, about 20km south of Bikaner — this temple houses hundreds of venerated rats believed to be reincarnated souls, that run free throughout the building.
Bikaner is also an alternative base for Thar Desert camel treks.
Best time to visit: Winter (October – March) is the best season since the weather is cool and dry, although nights can be cold. Summer (April – June) is best avoided due to excessive heat. During the monsoon season (July-September), Bikaner receives moderate rainfall and humidity is high.
6. Pushkar, A Blend Of Vibrant Colours
Located in Rajasthan's Ajmer district, Pushkar is often called tirtha-raj, which means the king of pilgrim sites. Did you know Pushkar is also among the five pilgrim sites or dhams for the Hindus? There are several temples in the city, and the most famous one is the Brahma temple, which is one of the very few temples dedicated to Lord Brahma in the world. You cannot miss out on Pushkar's famous Pushkar Lake, which has 52 ghats.
Highlights
The largest camel mela (camel market) in India is held annually just to the west of Pushkar.
Two of the most unique are the Brahma Temple and the Savitri Temple.
Best time to visit: In terms of weather, the best time to visit is in winter (October – March) when temperatures are pleasantly cool. However, this is also the busiest time, especially during the mela, which takes place over 14 days around the full moon of November. The hotels are also at their most expensive. Summer (April – June) is uncomfortably hot; the monsoon season (July – September) is wet but can be fun since there are fewer tourists.
7. Ajmer, Dargah Sharif
Picture Credits: Unspalsh
Ajmer is primarily known as the final resting place of Shah Khwaja Muin-ud-din Chishti, founder of the Chishtiya order. His tomb is now venerated as one of Islam's holiest shrines and is considered the most important in India. Non-Muslims are permitted to visit the shrine complex, and the vibrant streets and bazaars around the tomb are also worth exploring. Just outside of town, on a hilltop, lies the Taragarh, the remains of a 2000-year-old fortress that once controlled the region's trade routes.
Highlights
The undisputed highlight here is the tomb of Shah Khwaja Muin-ud-din Chishti, and this is the main reason why people come.
The rewarding hike up to the Taragarh is also popular.
Best time to visit: The best time to visit is in winter (October – February) when the weather is pleasantly cool. Summer is not recommended due to soaring temperatures of above 40° C. June to September is the monsoon season; this period sees some rain, but the region is also at its greenest.
8. Bundi
Although increasingly popular with travelers, Bundi also often gets overlooked as a tourist destination in Rajasthan due to its off-the-beaten path location between Jaipur and Udaipur. It's a captivating place to visit, with its lakes, temples, markets, miniature paintings, and blue houses similar to Jodhpur. This relatively laid-back town is dominated by the extraordinary and imposing Bundi Palace, which protrudes out of the hillside. The ancient, winding lanes of the Old City are fascinating to wander through. Bundi also has around 50 step wells and a ramshackle fort above the palace.
Highlights
The main attraction here is the palace and its famous murals.
For the best views of the city, climb up to the hilltop fortifications of the Taragarh.
Best time to visit: Visit in winter (October – March) for the best weather, although come prepared for chilly temperatures. In summer (April – June), scorching temperatures can be brutal; the monsoon season (July – September) is wet and humid and is not recommended.
9. Mount Abu, The Scenic Hill Station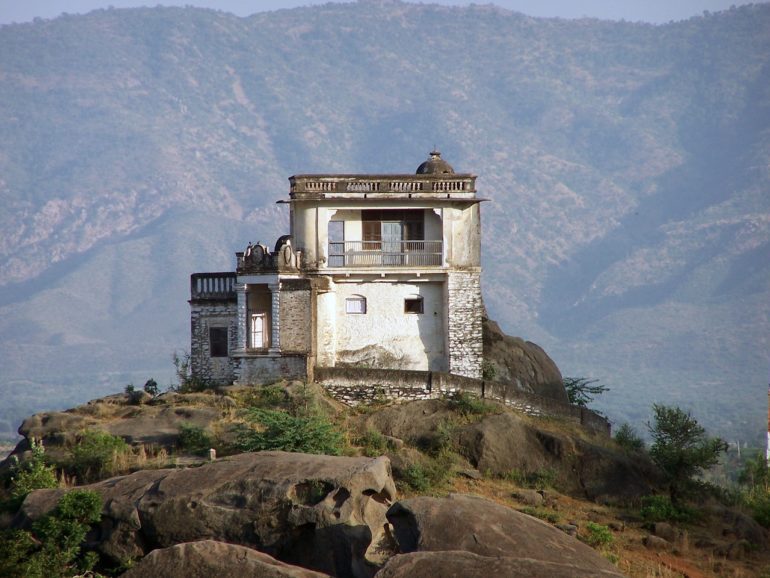 One of the most delightful places to visit in Rajasthan, Mount Abu is the State's lone hill station located close to Udaipur. It had a strong British presence due to its salubrious climate, and it was also the HQ of the famous Rajputana Agency in 1857. You will love visiting this tranquil spot with your family, or just your partner.
Highlights
The Jain temples are popular with foreign visitors and Indian tourists alike.
Nakki Lake is a must visit. But come prepared for pedalos and ice creams rather than anything particularly spiritual.
Best time to visit: Due to the higher altitude, winter temperatures is lower than elsewhere (between 16 – 22° C) and nights can be cold. This is a good time to visit but bring the right clothes. Summer (mid-April – June) is slightly cooler than other major tourist destinations in Rajasthan, but this is also the busiest time; if you want to enjoy the peaceful mountain scenery, this period is best avoided. The monsoon rains here (August – September) are the heaviest in the state, but Mount Abu is at its lushest during this period too, and waterfalls are at their most spectacular
10. Alwar, The Tiger Gate Of Rajasthan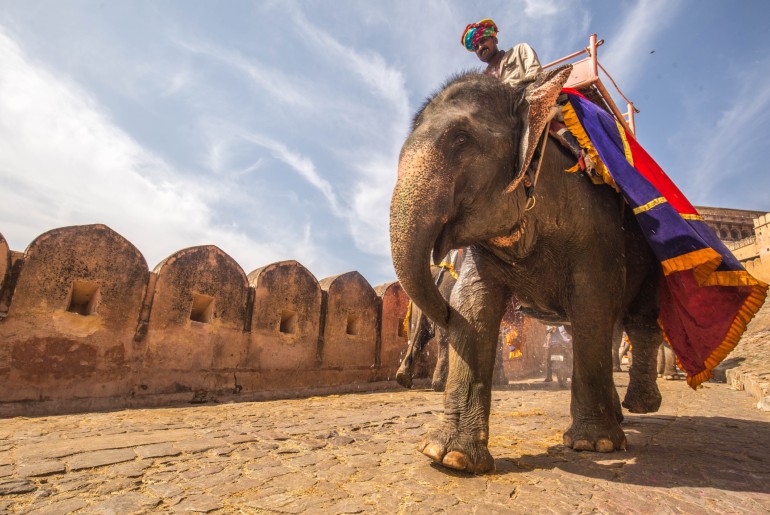 Located at 150 km south of Delhi, Alwar is a hub of tourism with forts like the Bhangarh fort, nature reserves like Sariska Tiger Reserve and heritage Havelis and lakes. The city also draws pride from its reputation of being featured in a number of Bollywood movies. Surrounded by Aravali hills, Alwar is has a rich culture and heritage. 
Highlights
Best time to visit: The best season to visit Alwar is the winter season. The temperature remains comfortable and is apt for visiting the monuments and other places of interest in Alwar. The best months to visit are October, November, December, February and March. Winters approach Alwar in November and lasts till February.
The Best Time To Visit Rajasthan
Being a desert State, Rajasthan experiences extremes of climate. The weather conditions are often quite harsh, so you must pick the right season to visit. We recommend visiting Rajasthan at the start of the winter period, between the months of late October to mid-December. The climate remains pleasant during this time, so you can sightsee and explore the outdoors without hassle. After December, the mercury drops sharply and you must be prepared for chilly days and nights. We advise staying away from Rajasthan during the summer season. The temperatures shoot above 40⁰C routinely, and the months of late April and all of May are quite unbearable in the day time.
The State does not receive too much rainfall, so visiting during the monsoon is also possible. This is not the peak tourist season for the State, so can easily get tickets and also good accommodation of your choice during the monsoon season. When booking a honeymoon package or suite during the winter season, be sure to book at least two months in advance to avoid a last minute disappointment.
How To Reach Rajasthan
Rajasthan is one of the major States in the country, with excellent connectivity to the rest of the nation. You can reach Rajasthan in these three ways:
* By Air: There are several daily and direct flights to Rajasthan from the country's metros and Tier I cities. The airport at Jaipur services international flights as well. Flights often arrive via Delhi's Indira Gandhi International Airport as well. The airports at Udaipur and Jodhpur are good for domestic flights only.
* By Road: You can easily access Rajasthan from other States by taking the NH8. This national highway passes through Udaipur and Jaipur as well. When coming from Agra, take the famous four-lane road connecting to Jaipur. If you don't wish to drive, you can take a State Transport bus or there are many options in private buses from other States as well.
* By Rail: There are several Express and fast trains arriving and departing from Rajasthan every single day. Most trains arrive from metros like Mumbai and Delhi. Then there are trains from other Rajasthani cities like Bikaner, Udaipur, Jaipur and Jodhpur.
Where To Stay In Rajasthan
Jodhpur
 The Kothi Heritage features typical Rajasthani interiors mixed with colourful stained glass windows and antiques. Tuck into traditional Mughlai cuisine and treat yourself to an Ayurvedic massage.
The luxurious Raas boasts wonderful views of the fort and exquisite accommodation. This designer spot also features an infinity pool and a spoiling spa, plus there's also a rooftop restaurant in which to enjoy excellent food. And, it's even centrally located.
Udaipur
As well known as Udaipur itself Taj Lake Palace is the place to stay for honeymooning couples. Located in the middle of Lake Pichola it is accessible by boat and all rooms include lake views. There is a unique spa boat and it boasts sumptuous bathrooms and suites with ornate mosaic work and stained glass windows.
Located just 15 minutes outside of the city Bujera Fort is ideally placed for city exploring and provides an escape from the bustling streets.
Jaisalmer
Jaipur
The rose-tinted Sujan Rajmahal Palace offers eight traditional rooms with chic colour palettes and classy interiors. There is also an outdoor pool. Enjoy al fresco meals out on the pretty terrace.
The first five star hotel to be built in Jaipur, the Hotel Clarks Amer boasts spacious rooms furnished in a classical style. Enjoy drinks at sunset on the Ta Blu roof top terrace bar after a long day out sightseeing.
Bikaner
Pushkar
Ajmer
Bundi
Mount Abu
How many of these beautiful cities have you visited?